What's the Best Way to Learn Spanish?
October 14, 2020

Posted by:

Janus Academy

Category:

Blog
We can boil down learning a language into the key skills. When you learn Spanish, you need to be able to:
To master all four of these skills in Spanish, you will need to know a lot of words in Spanish (vocabulary) along with the rules to combine them in the right way (grammar). That's it.
You shouldn't really skip any of those skills. If you understand but can't speak or can speak but struggle with writing, then you haven't really learned Spanish.
When you start out from scratch in any language, the first thing you learn is to present yourself.
Hola, mi nombre es Paul. Vivo en Berlin.

Hello, my name is Paul. I live in Berlin.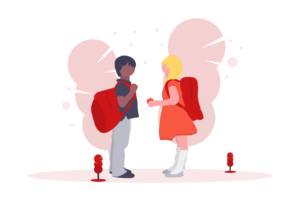 In any class or course, you will learn to understand, read, write and say those sentences right from the very beginning.
That's how it works. You start there and with each new sentence and word you look at, you understand a little more.
Of course, it gets more complicated along the way but essentially you start here and progress until you reach that all-important goal: you become fluent in Spanish. 
So, how do you actually become fluent in Spanish?
How to Become Fluent in Spanish – It's the System
Most people are under the impression that becoming fluent in Spanish only requires speaking and listening skills. But believe us – to be fluent, you also need reading, writing, vocabulary and grammar.
However you decide to learn these skills, if you want to become fluent in Spanish you need to follow a tested language learning system.
So, what is a learning system?
A learning system consists of:
A syllabus or curriculum (what to learn and in what order)
A method (how you learn and, if learning with a teacher, how your teacher teaches you)
Whether you're a self-motivated learner or joining a Spanish course with a teacher, you need a system to study Spanish at the optimal rate for you. If you want to learn Spanish fast, a system is the best way to motivate yourself, and it's the easiest way to learn Spanish!
If you're planning to do Spanish classes with a teacher, then of course the teacher you choose is important. However, you can have a motivating and friendly teacher who speaks a native level in Spanish, but without a good system, you won't become fluent in Spanish any time soon.